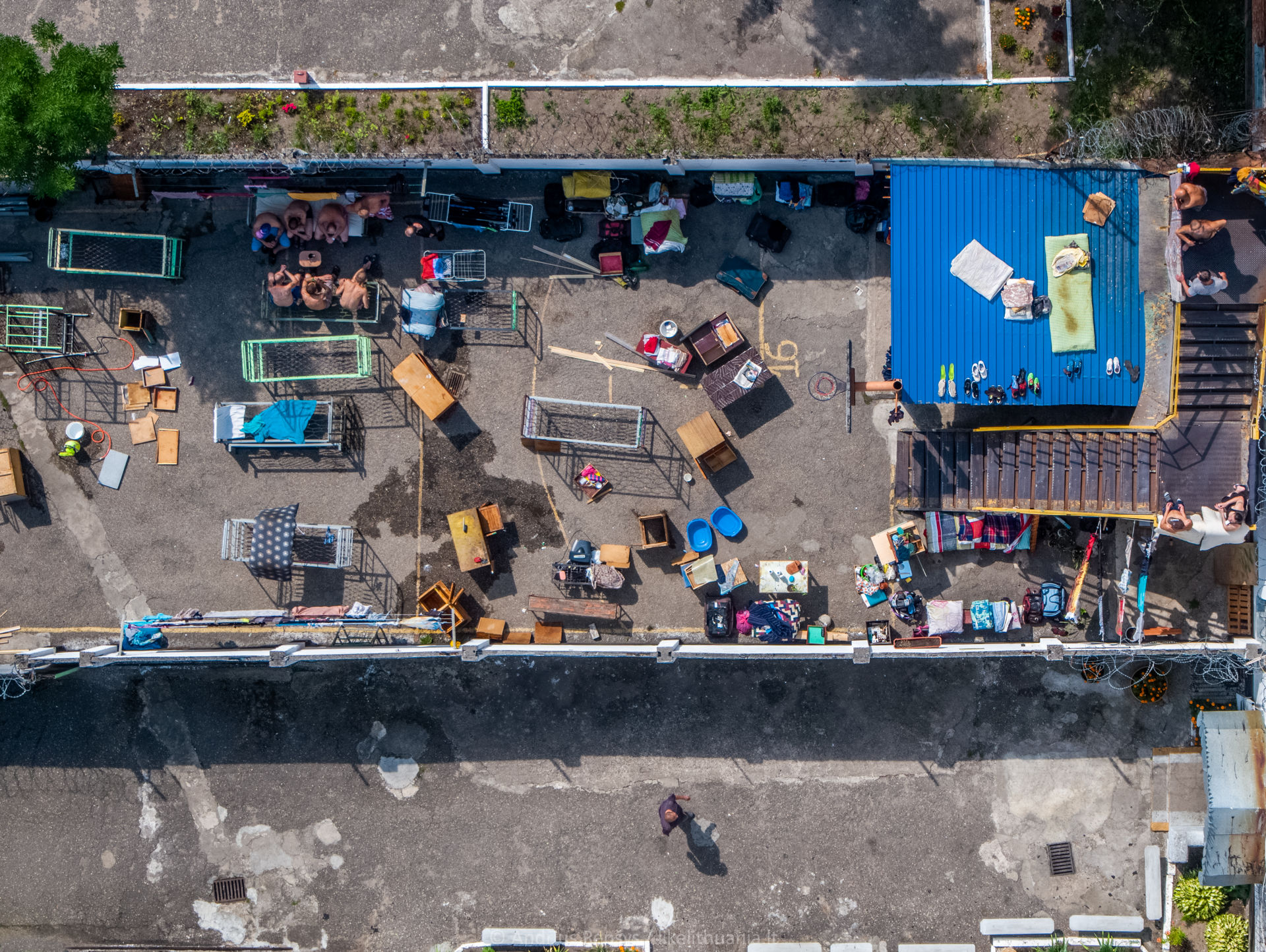 On June 18th, 6:30 p.m. opening of Andrius Repšys exhibition "4 m² of Freedom" will take place at Kaunas Photography Gallery. Exhibition author A. Repšys will take part in the event.
In these photographs, two panoptic systems met fatally – the prison and the drone. These are the two means of control, biocontrol, tracking, and human dismay which acquire the principle of mirror reflections in Andrius' works and radically visualize the techniques of enslavement.
We observe closed, poor, and geometrically sharp prison courtyards that are once again imprisoned from above through the eyes of an impunity drone watching the banal daily life of the convicts. <…> A prisoner may only face the flight of a bird or a drone at a glance. In this way the worlds of unlimited freedom and the optics of the imprisoned body intersect: these are the dramatic encounters.
On the other hand, there are other important and immediately unnoticeable messages in these photographs. If the drones have access to the innermost, everything else, more precisely, our private lives, courtyards and houses, rest areas and beaches, sex affairs in the nature, extreme deeds, and all other public passions potentially become the target of the drone. They fall into its sight and lose the privacy that is protecting the essence of the individual.
Moreover, drone optics signal the beginning of a new ethic in war and business, culture, and art. However, we do not know yet what ethics it is and what forms it will take. As always, artists come to rescue in such a situation. They research and experiment, offer futuristic scenarios, fantasize, and take risks. This opens up other routes for experiencing and understanding reality. They broaden the horizons and give us courage. We can indulge in the daily life of prison yards and empathize with the rituals of people trapped in the circle of eternal repetition. We can feel the omnipotent divine eye.
We are also given the opportunity to reflect on the expansion of universal voyeurism and the dangers of unclean pleasures. The celestial spectacle turns people into objects, targets, and schemes what makes them easy targets for optical missiles or drones-kamikazes.
Virginijus Kinčinaitis
Exhibition runs through 19 July.
Exhibition partners: Prison Departament, Švenčių studija, Promaksa.
Exhibition is partly supported by Lithuanian Council for Culture.