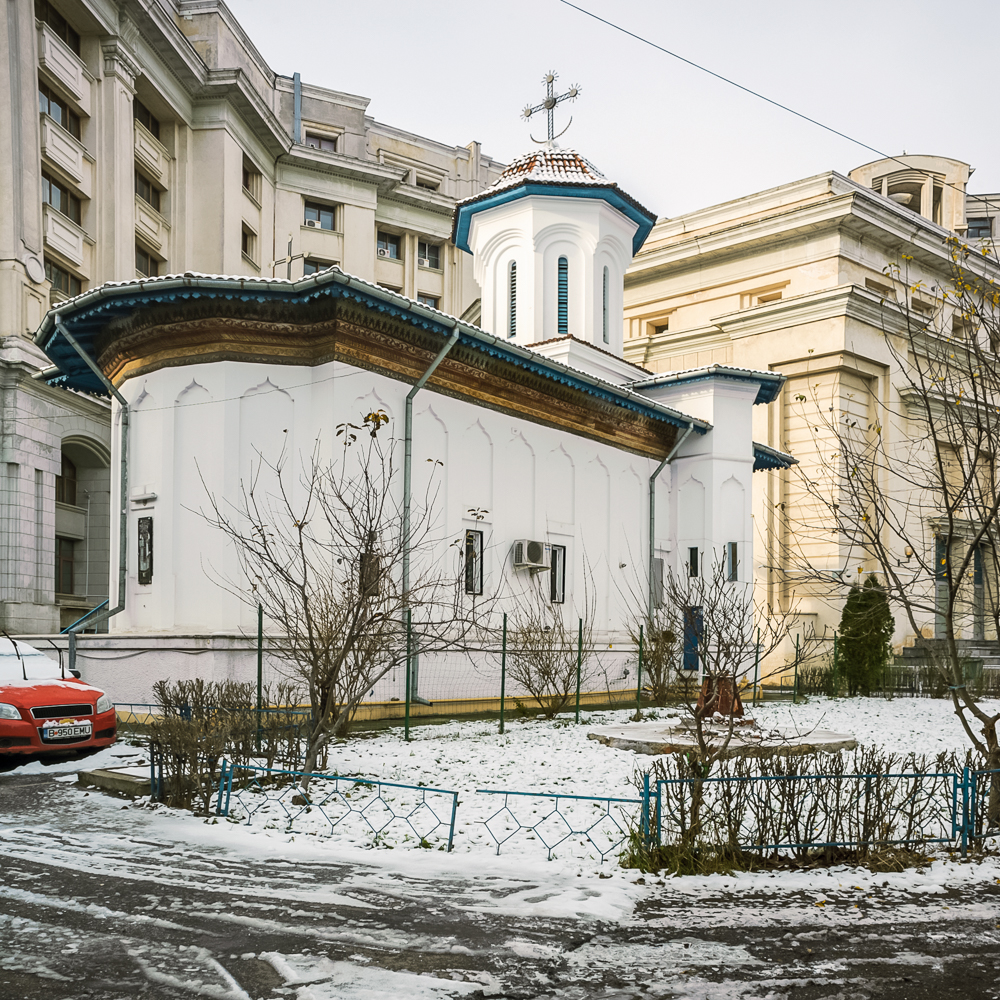 Exhibition runs February 13th – March 23rd.
On February 13th, 5:30 p.m. opening of Anton Roland Laub exhibition "Mobile Churches" will take place at Kaunas Photography Gallery. Exhibition author A. R. Laub and curator Sonia Voss will take part in the event.
On February 15th. (Saturday), 3 p.m. Anton Roland Laub will give an artist talk in Kaunas Photography Gallery. During the event artist will give an overview on his work and artistic practice. He focuses on the traces of regime that still remain visible in urban cityscapes of his motherland Romania.
In two series, presented together for the first time in this exhibition, Romania born photographer Anton Roland Laub addresses the political and cultural heritage of Ceaușescu.
Mobile Churches (2017)
Bucharest in the 1980s. Ceausescu's 'systematisation' programme is in full swing in the Romanian capital: one-third of the historic centre has been wiped out to make way for imposing edifices and wide avenues intended to honour the regime. Despite Ceausescu's particularly dogged approach towards the churches, seven are spared and undergo a process as incredible as it is absurd: they are lifted and placed on rails then moved and masked by housing blocks. Other sacred places, such as the Great "Polish" Synagogue, are hidden behind socialist panel constructions. Withdrawn from the cityscape, these buildings live secret lives, interpolated in the disparate architecture that shapes Bucharest's urban landscape today.
Combining photographs with archival material, this critical inventory reveals a lesser-known yet fascinating urban and political story. Its act of 'unmasking' also addresses the broader issue of Romania's reappraisal of its past, a process the country has yet to accomplish.
The book Mobile Churches has been published by Kehrer Verlag (Heidelberg). The dummy book had previously been shortlisted for the Luma Rencontres Dummy Book Award, Les Rencontres de la Photographie, Arles 2017 and the Unseen Dummy Award, Unseen, Amsterdam 2017.
Last Christmas (2018-2019)
Romania's path towards democracy started a month after the fall of the Berlin wall. It didn't start peacefully but with bloodily repressed demonstrations. It was also marked by the controversial trial against the dictator couple Nicolae and Elena Ceaușescu on Christmas Day 1989, in office number 3 (Birou 3) of a military base. The trial lasted only 55 minutes, the verdict 1 minute 44 seconds and the execution less than 10 minutes. The decree setting up the tribunal was signed on December 27th, by which time the couple had already been dead for two days.
The events of those violent days remain shrouded in mystery and intrigue, leaving the question: was it a people's uprising or a staged coup d'état?
Corruption in Romania results not only from the 'stolen Revolution', but also from the wall of silence that has been blocking justice for 30 years.
Anton Roland Laub, born and grown in Bucharest, moved to Germany in 2000 where he studied at the New School for Photography and the Weissensee School of Art in Berlin. Bucharest's recent history – seen particularly through the prism of urbanism – as well as the stigmata of Ceausescu's dictatorship are one of his main focuses as a photographer.
Sonia Voss, curator and athor. Latest projects: Sophie Calle. Beau doublé, Monsieur le marquis!, Musée de la Chasse et la Nature, Paris 2015- 2016, Restless Bodies. East-German Photography 1980-89, Rencontres de la Photographie, Arles 2019, Isabelle Le Minh, Alfred Ehrhardt. Cristal réel, Goethe Institut, Paris 2019/Alfred Ehrhardt Stiftung, Berlin 2020, Anton Roland Laub. Mobile Churches, Paris, Berlin, Arles, Bucharest…
Exhibition curator: Sonia Voss.
Exhibition runs until March 23.
Exhibition is supported by Lithuanian Council for Culture.