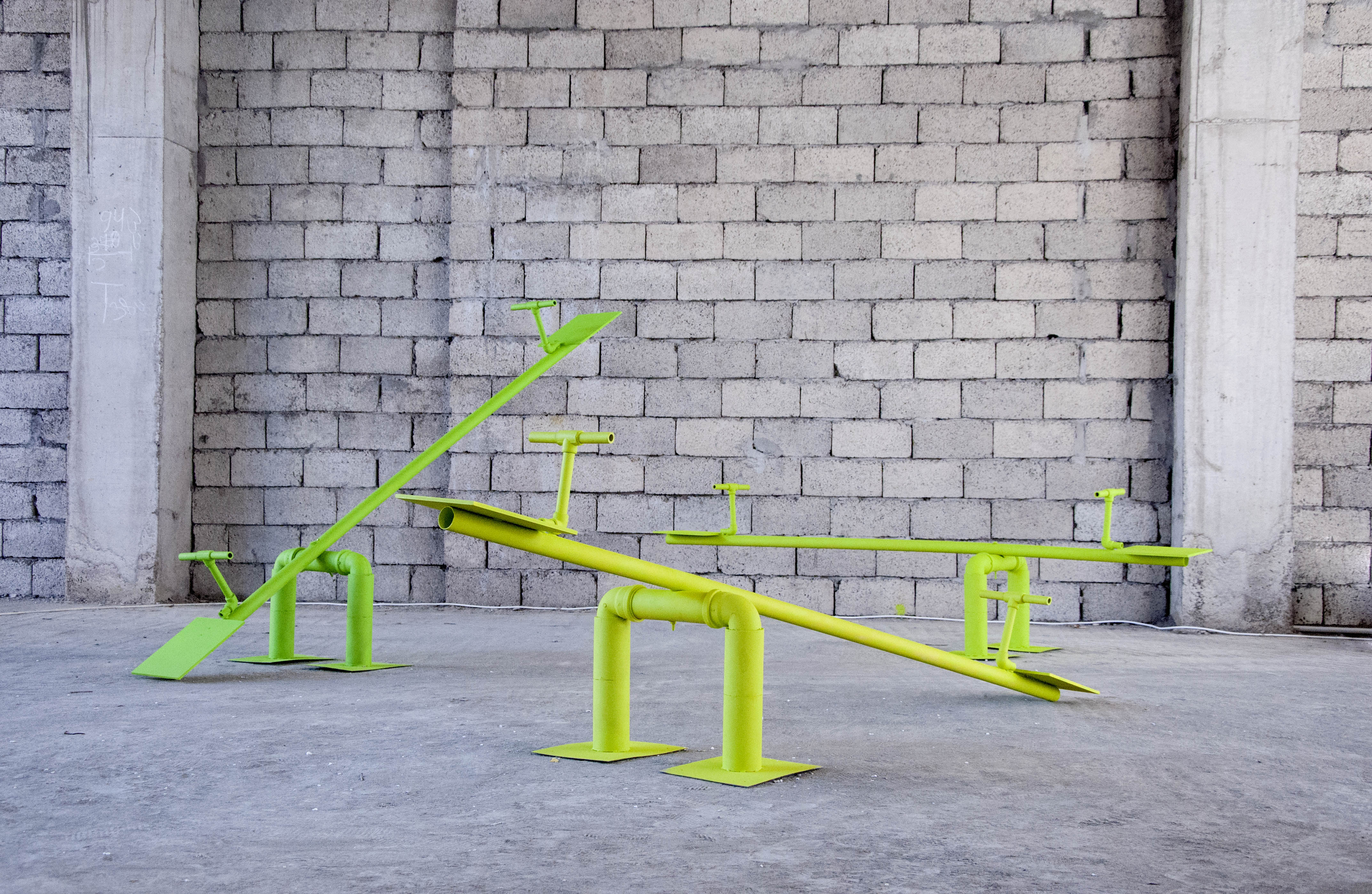 On 24th of September, 5 p.m. in Kaunas Photography Gallery will be held the opening of International Contemporary Art Festival "Kaunas mene" (Kaunas in Art). The exhibition at Kaunas Gallery contains pieces by artist from Georgia Giorgi Maghradze, also by artist from South Korea Kyoung-Jae Cho and video works by Taiwanese artists Chen I-Chun and Hsu Chia-Wei.
Chen I-Chun and Hsu Chia-Wei (Taiwan) are one of the brightest video artists in the country. They stand out of the context because their choice to use Taiwan's history, culture and traditions, connecting them with their personal experiences.
Organizers of "Kaunas in Art" while collaborating with "Liang Gallery" (Taipei) invites to get acknowledged with contemporary art of Taiwan, which is not much familiar not only to Lithuanians, but also for the rest of the world.
"One of the most popular forms of art in Taiwan of today is video art. Series "Four Episodes" by artist Chen I-Chun is presented in the festival – colourful and visually eloquent, based on legends and stories about grandpa Shui-Yuan Lin. Watchful perceivers in this story will also find hidden moral. With another work – "The Piggy Song" – artist tells a story about ecological problems of the island, that are relevant and for the rest of the world.
Hsu Chia-Wei presents two video works at the festival. These works tell the story about a local frog deity called Marshal Tie Jis. With these works artist tries to resurrect forgotten myths, historical events and connect them into integral context, based not only on the facts, but also on mystic rituals. These are one of the most exotic and mysterious video works in this festival." (Curator Laura Lygaitytė, Liang Gallery, Taipei)
Artist from Georgia Giorgi Maghradze and his project "Social Advantage"  is being presented in collaboration with young curator Ieva Vitkauskaitė, who also curated international project in the festival in 2014.
Installation "Social Advantage" reflects the idea that society cannot exist without social ties. Each person is a part of society, taking his/ her part in the social system, the basis of which consists of mutual relations and social interactions. Seeking to gain the best position in social life system is in human nature as a result power and status games emerge.
Social life is like a seesaw, the amplitude of which depends on the point of balance. Therefore, in every social system, a point of balance is wanted, as it will allow the system to survive and create sustainable relationship in the society. However, one may pose a question whether social balance is possible in the society and where is this central point located?
The seesaw paradox happens every day: from children's games to the politics of various countries. A group of people outweighs another group, individuals invoke the masses / attract massive crowds, etc., even though these processes are contrary to the laws of nature…
One more artist of the festival "Kaunas in Art" presented at Kaunas Gallery – Kyoung-Jae Chofrom South Korea who is currently based in Berlin.
Kyoung-Jae Cho is an emerging photographer, crossing the field of photography and painting. Visual distortion created by the artist creates illusion of three-dimensional, and the work deals with a theme of reality and virtual reality.
Cho observes objects through photographs. He photographs everyday objects by choosing a space to install the objects first, then composing them intuitively and spontaneously. Cho does not alter photographs using the technology. He himself composes and paints the objects, if needed. The unique geometric space with intertwine objects, which has been created by the artist constantly observing objects with their compositions, presents unconventional visual impacts. The photographed objects lose their original functions, thus only forms and colourful harmony are accentuated. In this process, the artist consistently makes rational decisions, and he gets to rigorously explore the aesthetic quality.
"What to do is more critical than what to say in my work. In order to do such works, act of repetition is required. I do it first and repeat the action again and again. By doing continuous selection, works are spontaneously changed into unexpected way. Instead of making the viewer understand the meaning of my works, I want the audience view pure aesthetic components pleasantly."
Essential goal of 7th edition of "Kaunas in Art" is not only to give a look through works of contemporary artists to new possibilities of cultural collaboration that opens up thanks to globalizing world, but to show for society how representatives of react , how they think in categories of today's topical issues concerning ecology, political life, human rights. Therefore, the programme of 2016 festival consists of projects, talking about relevant social, political, economical, conservation of natural resources, historical memory, artist as representative of contemporary culture, relation with society aspects.
For the first time festival's programme contains such a wide artists' geography will provide the opportunities for cognition of above mentioned aspects and cultures.
Contemporary  art festival "Kaunas in Art" – one of the biggest contemporary art projects held in Kaunas since 2008.
Ministry of Culture approved the festival for the programme of 2013-2015 and 2016-2018 year "International Art Events Organised in Lithuania".
Other festival's events:
Žilinskas Art Gallery (Nepriklausomybės a. 12, Kaunas)
Andreas Mares (Austria);
Anida Yoeu Ali (Cambodia / United States of America) / Studio Revolt;
Federico Baronello (Italy);
Rieko Koga (Japan);
Patricija Gilytė (Lithuania / Germany) / gallery "Meno parkas";
Andrius Kviliūnas (Lithuania);
Valda Verikaitė (Lithuania);
Joël Andrianomearisoa (Madagascar / France) / gallery "Sabrina Amrani";
Gallery "POST" (Laisvės al. 51a, 3rd floor, Kaunas)
Xaro Castillo (Spain);
Youki Hirakawa (Japan) / gallery "White Rainbow";
Agnė Jonkutė (Lithuania) / gallery "Meno parkas";
Ulrich Kochinke (Germany);
Gallery "Meno parkas" (Rotušės a. 27, Kaunas)
Elena Balsiukaitė-Brazdžiūnienė (Lithuania);
Pranciškus Brazdžiūnas (Lithuania);
Marian van der Zwaan (Portugal);
Benedikt Braun (Germany) / gallery "Eigenheim";
The exhibition will be open until 23rd of October.