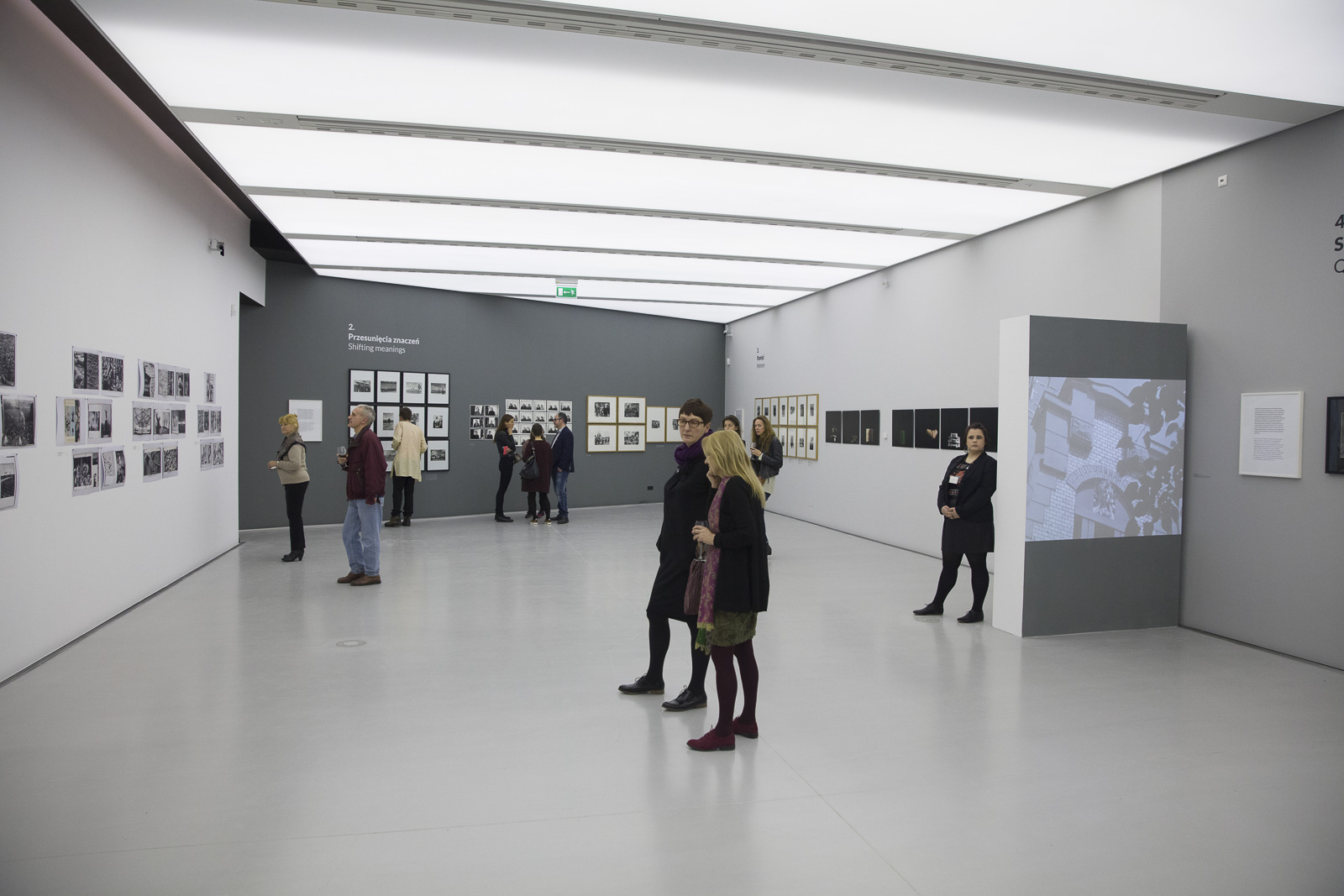 2015 December 10th – 2016 January 31st 
In Manggha Museum of Japanese Art and Technology, Krakow.
Participants: 
Bronius Kazlauskas
Milda Drazdauskaitė
Ilja Fisheris
Chanonas Levinas
Ginataras Zinkevičius
Rimaldas Vikšraitis
Algirdas Šeškus
Vytautas Stanionis
Indrė Šerpytytė
Vitas Luckus
Gytis Skudžinskas
Algimantas Kunčius
Birutė Orentaitė
Audrius Zdavskis
Romualdas Rakauskas
Antanas Sutkus
Anzelmas Matutis
Quiet life, curated by Wojciech Nowicki
 It's strange in Lithuania: as if I were at home and at the same time in an absolutely foreign country. Still under the same violent skies, surrounded by the same architecture, among similar landscapes, flat with local undulations; even its culture may seem identical, nearly twin, like nearly everything else around here. Yet in what I see there is a profound concurrent strangeness: incomprehensible language from which I fish out but a single word, the strangeness of historical accumulations, the entire history of post-war Lithuania, a Soviet republic with haphazard shoddiness embracing everything from architecture to life as such. This accumulation represents bleak years. A new country takes time to develop, a country interesting in the ordinary way, and not only due to stigmatisation.
I am watching photographs. I wonder what life looked like then, in the olden days, and what it looks like now, and what Lithuanian photography wants to discuss.
There is something in these photographs that at first eluded me, because they are much unlike one another. Created in different times, they have different authors. The technique and purpose for which they were taken also differ: some are just documents, keepsakes to be cherished by loved ones, others, the latest, are a reflexion on the medium of photography. Some are simply works of art, in which technique is simply a tool, while others are reports ordered by newspapers; there are also photographs that started from the conviction that this is the way to go, that they need taking even if they don't find recognition, even if there is no one to understand them. The last group are the most difficult, because they show some unpopular truth of their own (as far as photography is capable of telling the truth).
I collect these images; I turn them around in my memory, and juxtapose them one with another. Radiating from all of them is a sense of proximity, a sense which only photography can offer, although – and this has been emphasised from its earliest days – it is no more than a mechanical procedure, a machine recording (and yet, at times, it elevates the measliest manifestations of life, in the process taking nothing away from them that could be called truth, its function or avatar). A strange peace also emanates from Lithuanian photography, a peace that is at times wrapped in irony. Life – I deem looking at these photos – passes quietly here, or else, it seems to be so quiet and peaceful; even if there are plenty of mishaps in that life it comes served in kid gloves. Photographs with a punch, wild, like in Rimaldas Vikšraitis, describing what I believe to be some non-existent and yet conceivable world, which in your or my naivety can easily be taken for a photographic record of rural life in Lithuania (or in any other country) and which are also bucolic in their own way. The wrong deeds of these people, Vikšraitis's protagonists dressed in a meagre garb and living poor lives, dazed as often as not by a drunk oblivion – as can clearly be seen, surprisingly often and nobody knows why, naked and yielding to Bacchanalia as if transported from among the stone columns of Rome to the wooden, smoke-suffused cottages, the backdrop of rags, broken pots and remnants of butchered animals (with the village visible through the window), their wrongdoings carry an element of joy. There is in them a great, immaculate power undermined by nothing. And although all this takes place in an atmosphere of bellowing, and although all of Vikšraitis's heroes are writhing in a weird dance, they drown in oblivion; in this dance, writhing, and debauchery (taken seriously to the point of oblivion) there is a peculiar peace, certainty of movement, and also something that I – an observer and commentator on works of photography and not on the world presented in the photographs – can spy on: the obstinacy of registration which adds to the glory of the author.
Peaceful life may be wild at times, this is the first lesson; it may be different and incomprehensible.
A great peace exudes from Algirdas Šeškus's photographs from the 1970s and 1980s; more: it is a certain excess as if not only nothing happened here and now, but as if nothing ever happened. Šeškus unwaveringly documents the life of a country lying among grey landscapes drowned in sloth and boredom: they are imparted by thousands of prints hardly larger than a credit card, somewhat frayed and stored in boxes, as well as from a majority of more accomplished photographs. They are saturated with peace, melancholy, sadness and joy at the same time. There is in them an accusation of the country and the time in which Šeškus happened to live, and simultaneously a eulogy to the glory of women, life, and the freedom of creation that photography bestows. They are combined by what could seem the author's supernatural talent to find subjects parallel to the mainstream and against the current of the main interests of his contemporary photography. Šeškus portrays micro-events, the laborious history taking place somewhere on the margin: people known to no one, the interior of his own most ordinary of homes, and of offices and shops. His documentary passion embraces objects of heritage, life in the street, the boring hours spent at work, and the artificial world of Soviet television: together these build a strange but convincing mélange which clearly demonstrates that what is drab, pedestrian, rejected, ordinary, and quiet is the most inspiring and attention worthy. A similar path was followed by others: in her portraits Milda Drazdauskaitė presented people looking as if they came from another period, or actually from beyond time; this is what those closest to her must have been: attractive because they were ordinary, and still. So did Gintaras Zinkevičius in Kareivio dienoraštis / The Soldier's Diary, a book of memory that could easily be dismissed with a shrug of the shoulder, if not for its cohesion and ostentatious absence of fireworks; it is a stolen tale as it was developed against military regulations. Technologically imperfect, the recording brims with smudges, smears, and stains, oozes the everyday boredom of barrack life. Perhaps that is why it is so very convincing.
Lithuanian photography documents – as can be seen in numerous examples – commonplace existence bordering on the absurd, complete with the grime and pain accumulated in the corners of history and of individual lives. This aesthetic carries a germ of subversion: a lack of an ideological brand used to be an act of courage, a demonstration of dissent in opinion. (Something that luckily no longer needs to be remembered today.) Rejection of the brisk, positive aesthetic, the one promoted throughout the whole communist bloc, provided a surprisingly powerful and unambiguous effect: that of rebellion.
Yet the presentation of an ordinary, peaceful life is more than just a current that belongs to the history of Lithuanian photography. The colourful photographs by Indrė Šerpytytė only contain objects against a black background: objects tarnished with wear and tear, yet arranged and ironed as if they came from a shop with luxury goods: shirts, a military cap, a leather bag worn away through daily use; as much as this and very little in terms of a keepsake of a loved one: the father who died in mysterious circumstances. An object, pars pro toto for a human being, portrays grief and pain. (A peaceful life does not mean one devoid of drama.) There are also the photographs by Bronius Kazlauskas, taken in a different time and for another purpose: seemingly equally innocent, gentle, and subdued as those by Šerpytytė (as they present ordinary people and events, family life, celebrations, funerals, and snowclad landscape). Without complementation they are no more than half-finished. The image says no more than 'here's a poor life lived in difficult conditions'. Armed with text, however, the photographs disclose more than that, they tell the history of Lithuania, the history of resettlement, persecution, exile – in this case, to Siberia; these are no longer family portraits, but a portrait of dissociation or distance, a portrait of the entire society. Photographs also happen to change their significance with the passage of time: with the passage of decades, portraits by Vytautas V. Stanionis – ordinary photos for documents – became liberated from the burden of being commissioned and, having eventually been perceived as an autonomous work, became a portrait of a community, a society. This series carries a surprising power, another endorsement of the power of photography developed for other purposes. This is similar to the case of the press photos by Ilja Fišeris or Chanonas Levinas, documenting sports competitions, village gatherings, and work in the field. Originally, they praised communist reality, and today they can hardly be perceived otherwise than a picture of life under duress, to the rhythm beaten by the party drum.
Peaceful life, flowing as if beyond time and without major events, a delicate slumber interspersed with petty happenings: this is what emanates from the photographs by many Lithuanian artists. The collection lacks watershed dates, famous people (should they appear at all, they do so on political posters as an ironic element in the cityscape). The essence of that photography is routine, additionally enhanced by the choice of subject, which can be absolutely anything: objects in everyday use, fragments of walls, banal landscapes, frequently cropped misshapenly and not shunning what official photography always carefully avoided (piles of soil, holes, bare patches in the lawns), everyday activities – eating, lying in bed, talking, boredom, life.
The recognition that one can think otherwise about photography, without making references to a humanistic reportage (the great representatives of this school, notably Antanas Sutkus, are to this day a Lithuanian export), leads to projects focused on the very medium of photography, its role and functions devoted to the language of photography and its transformations. Vitas Luckus and, albeit a few decades later, also Gytis Skudzinskas, wonder what photography says many years later, and how it can currently be read. Luckus copies old photographs and arranges them into cycles, bringing to light fragments that once – in the 19th or early 20th century – could seem verging on unimportant as their reception was not imprinted with political (or any other) correctness; a picture of a hazy 'bygone' which we currently assemble from them is shatteringly painful: this is a world brimming with violence, strange rhythms, and repetitions. (Luckus's series offers a hint of the future as well: others will look at our photographs, as well as our customs and weaknesses, in the same manner.) Gytis Skudzinskas in turn perceives objects, three-dimensional, material entities, in photographs. He focuses on the other side of the photographs which is usually glossed over. In his project they are but an empty space created for description, a vehicle for the word. This is the ordinary life of a photograph: a paper or a file described by somebody.
Life in Lithuania, as I see in the photos, flows following a different, slower rhythm. (It must be remembered that photographs never tell the entire story; they are faithful reflections and fiction at the same time.) In the most interesting, most individual manifestations, Lithuanian photography mastered the capacity to transform micro-events, individual movements into general truths and events at the level of entire humanity. The everyday boredom and banal, grime and the ordinary, little dramas that are nothing much, and yet in the photographs they cause a stir, they wake you up from a state of bliss. This is the power of great photography. (Photography that saves with its power, and which applies a cosmic dimension to that which is imperceptible.)
Exhibition 'Quiet Life. Modern Lithuanian Photography' in KrakowViktorija