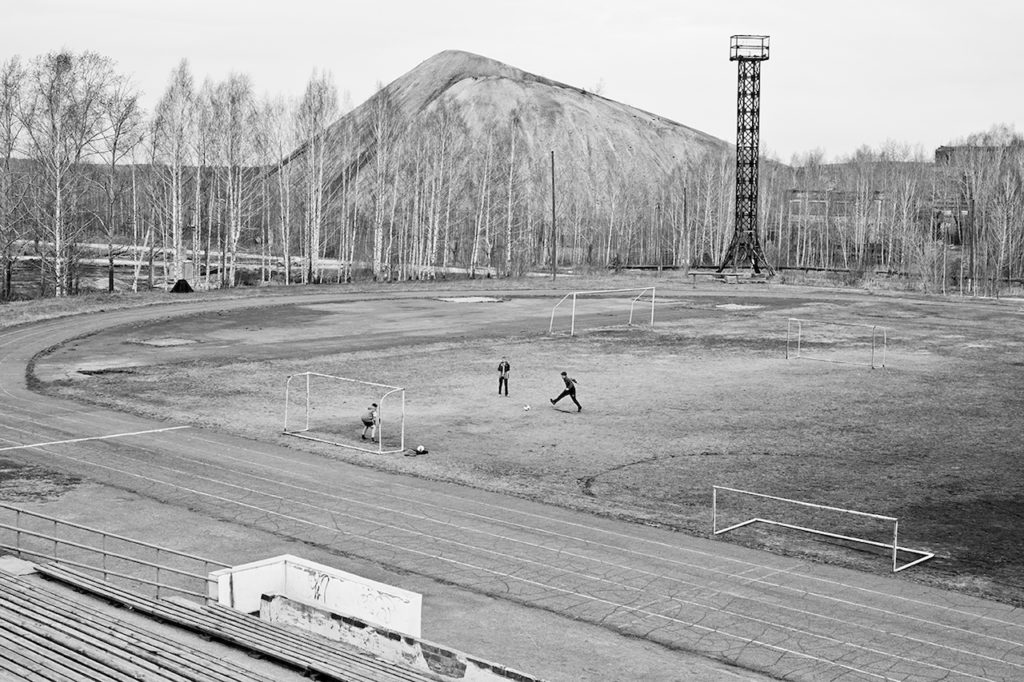 Fyodor Telkov exhibition "36 Views" in Kaunas Photography Gallery is open from October 10th to November 10th.
Thirty-six Views of Mount Fuji is a well-known series of color wood block prints by the Japanese artist Katsushika Hokusai. There is Fujiyama – the sacred mountain of Japan — in every image of this series.
Degtyarsk is a town in Sverdlovsk Region with the population of about 14 000 people. Once a prosperous mining town today it is dependent on the Region's subsidy. Towering over the opposite ends of the town there are two huge waste piles heaps of dead rock from Kapitalnaya 1 and Kapitalnaya 2 mines. The once successful town forming copper mining enterprise has left the town in the state of environmental disaster: wastewaters from the mines still poison soil and water supply and the waste piles have a high level of radiation background. Besides one can hardly find a former miner in the town due to the extreme health hazard of copper mining.
There is a town legend in Degtyarsk saying that some time ago Japanese wanted to buy the waste piles but the town said no explaining that they are the 'strategic stockpile'.
The waste piles can be seen from almost any point in Degtyarsk, they dominate the town with the people's lives running at their foot. The waste piles are a metaphor for the post-Soviet economy and the today's state of the one-factory towns scattered throughout the country.
Fyodor Telkov was born in 1986 in Nizhniy Tagil, Russia, now is based in Yekaterinburg. F. Telkov is consistently following changes and atmosphere of Ural region. In his work photographer depicts mythology, culture, nature and industry of Ural region. His works were exhibited in Metekov's House Museum in Yekaterinburg, Okno Gallery in Chelyabinsk, Na Shabolovke gallery in Moscow, 3rd and 4th Ural Industrial Biennale of Modern Art in Yekaterinburg. Obscura Festival of Photography in Penang, Malaysia, etc. F. Telkov's photographs were published in British Journal of Photography, The Guardian, YET magazine, Forbes, Rolling Stone, Photobookstore magazine and other publications.
Exhibition is partially funded by Lithuanian Council for Culture.