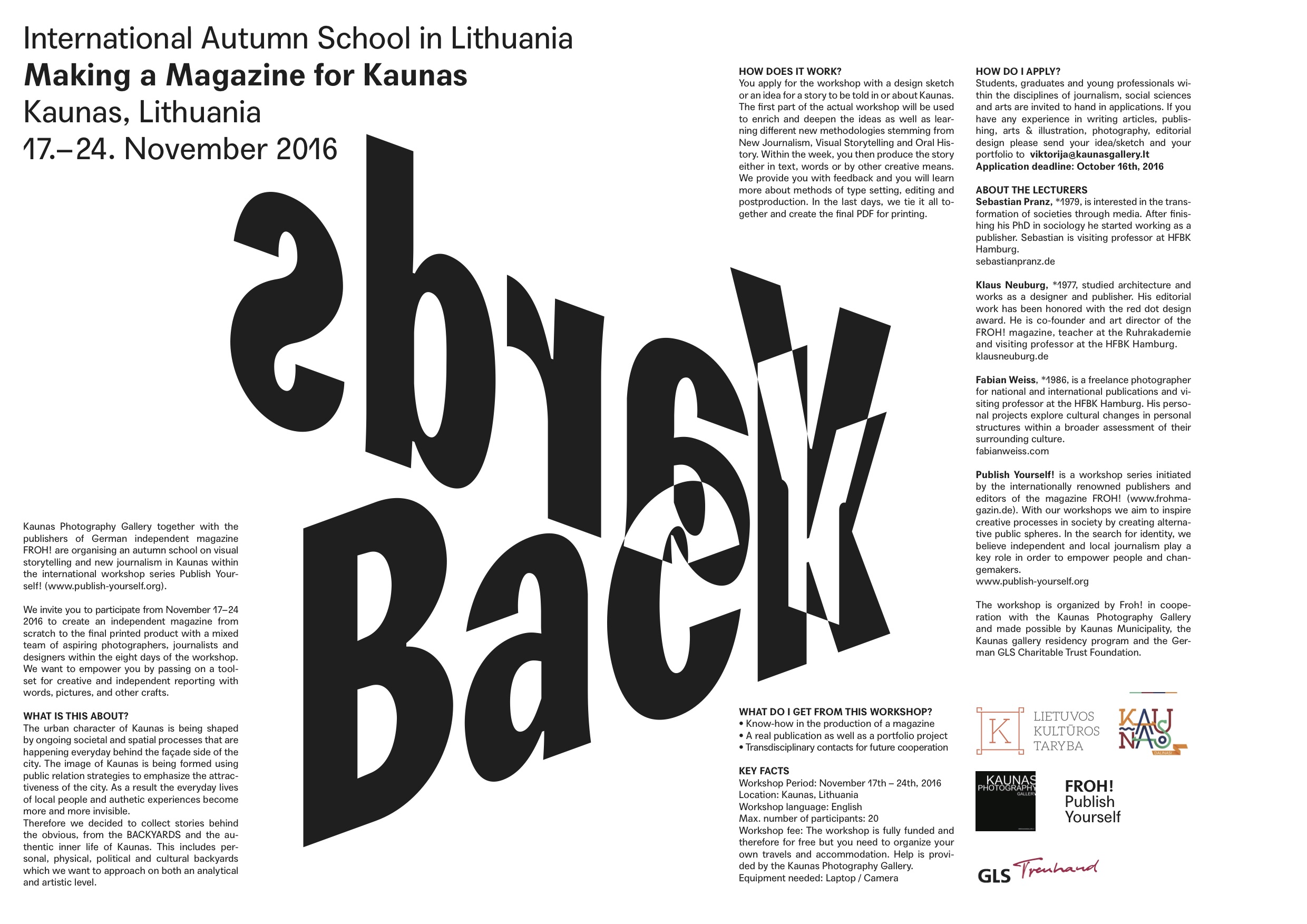 Kaunas Photography Gallery together with the publishers of German independent magazine FROH! are organising an autumn school on visual storytelling and new journalism in Kaunas within the international workshop series Publish Your- self! (www.publish-yourself.org).
We invite you to participate from November 17–24 2016 to create an independent magazine from scratch to the final printed product with a mixed team of aspiring photographers, journalists and designers within the eight days of the workshop. We want to empower you by passing on a tool- set for creative and independent reporting with words, pictures, and other crafts.
WHAT IS THIS ABOUT?
The urban character of Kaunas is being shaped by ongoing societal and spatial processes that are happening everyday behind the façade side of the city. The image of Kaunas is being formed using public relation strategies to emphasize the attrac- tiveness of the city. As a result the everyday lives of local people and authetic experiences become more and more invisible.
Therefore we decided to collect stories behind the obvious, from the BACKYARDS and the au- thentic inner life of Kaunas. This includes per- sonal, physical, political and cultural backyards which we want to approach on both an analytical and artistic level.
HOW DOES IT WORK?
You apply for the workshop with a design sketch or an idea for a story to be told in or about Kaunas. The first part of the actual workshop will be used to enrich and deepen the ideas as well as lear- ning different new methodologies stemming from New Journalism, Visual Storytelling and Oral His- tory. Within the week, you then produce the story either in text, words or by other creative means. We provide you with feedback and you will learn more about methods of type setting, editing and postproduction. In the last days, we tie it all to- gether and create the final PDF for printing.
HOW DO I APPLY?
Students, graduates and young professionals wi- thin the disciplines of journalism, social sciences and arts are invited to hand in applications. If you have any experience in writing articles, publis- hing, arts & illustration, photography, editorial design please send your idea/sketch and your portfolio to viktorija@kaunasgallery.lt Application deadline: October 16th, 2016
ABOUT THE LECTURERS
Sebastian Pranz, *1979, is interested in the trans- formation of societies through media. After finis- hing his PhD in sociology he started working as a publisher. Sebastian is visiting professor at HFBK Hamburg. sebastianpranz.de
Klaus Neuburg, *1977, studied architecture and works as a designer and publisher. His editorial work has been honored with the red dot design award. He is co-founder and art director of the FROH! magazine, teacher at the Ruhrakademie and visiting professor at the HFBK Hamburg. klausneuburg.de
Fabian Weiss, *1986, is a freelance photographer for national and international publications and vi- siting professor at the HFBK Hamburg. His perso- nal projects explore cultural changes in personal structures within a broader assessment of their surrounding culture. fabianweiss.com
Publish Yourself! is a workshop series initiated by the internationally renowned publishers and editors of the magazine FROH! (www.frohma- gazin.de). With our workshops we aim to inspire creative processes in society by creating alterna- tive public spheres. In the search for identity, we believe independent and local journalism play a key role in order to empower people and chan- gemakers.
www.publish-yourself.org
The workshop is organized by Froh! in coope- ration with the Kaunas Photography Gallery and made possible by Kaunas Municipality, the Kaunas gallery residency program and the Ger- man GLS Charitable Trust Foundation.
WHAT DO I GET FROM THIS WORKSHOP?
• Know-how in the production of a magazine
• A real publication as well as a portfolio project • Transdisciplinary contacts for future cooperation
KEY FACTS
Workshop Period: November 17th – 24th, 2016 Location: Kaunas, Lithuania
Workshop language: English
Max. number of participants: 20
Workshop fee: The workshop is fully funded and therefore for free but you need to organize your own travels and accommodation. Help is provi- ded by the Kaunas Photography Gallery. Equipment needed: Laptop / Camera