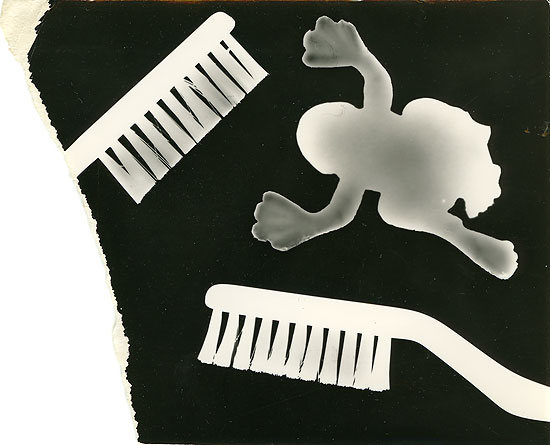 Works and Research sounds like a general title, but the exhibition is not trying to systemise the artworks of Ivars Grāvlejs in any way. The author's artistic spectrum is very wide indeed, including photography, installations, performances, happenings, and publications. All this allows the spectators to discover new links between different familiar elements, and the exhibition acts like a tool to evaluate the trajectory of I. Grāvlejs' work.
The artist's relationship with photography and capturing moments of the environment began in his childhood years, when not knowing of any trends, aesthetic styles or genres, he tried to copy them in Early Works (1990-1996). When he became a professional photographer, he turned the other way on purpose, avoiding the skills he had learned and the theoretical knowledge he now possessed. This university teacher, when creating his own publications, accepts the role of a pseudo-charlatan that's not really understand anything. I. Grāvlejs stays away from clean, sterile, carefully quantified contemporary art, and therefore chooses dirty, tasteless images along with brusque, dilettante texts.
The exhibition concentrates on the artistic trajectory of Ivars Grāvlejs, analysing relevant problems from the viewpoint of a child who creates progressive works to a one of an academic who's preparing charlatanic publications on subjects linked to photography and representation.
Ivars Grāvlejs (1979) is an artist whose work is characterised by an irreverent approach in dadaistically performative execution that is worthy of a trickster. With raw irony and an uncompromising attitude, Grāvlejs` conceptual and often socio-critical projects make familiar things and situations appear in a cardinally different perspective. The media most frequently used by the artist are photography and video, yet archival materials, installations, environmental objects and unauthorised actions often become significant formal components of the works. In 2007 he earned a Master`s degree from the Academy of Performing Arts in Prague (FAMU) and currently teaches photography in Brno as well as doctoral programmes in Prague and Bratislava. He has held more than 40 personal exhibitions and has taken part in countless group exhibitions, including Viewfinders. Contemporary Baltic and Nordic Photography (2014) in Riga and Performing for the Camera (2016) at Tate Modern, London. In 2015, the British publishers MACK released Grāvlejs` photobook Early Works which gathers together photographs taken by him during adolescence.
Exhibition is partly supported by Lithuanian Council for Culture.
The exhibition screenings were made possible through generous support from Epson Lithuania.
Exhibition runs: May 11th – June 10th.