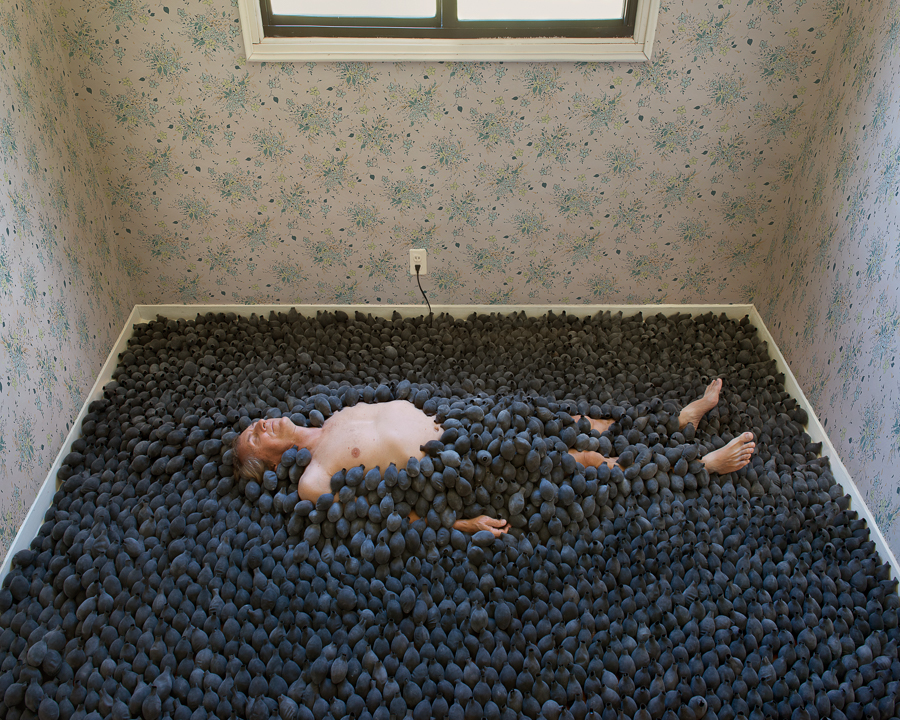 Jennifer B. Thoreson exhibition "Testament" opening at "Kaunas Photography Gallery" (Vilnius str. 2) September 3, 5:30 p.m. Exhibition will be on display till September 27.
Open: II – V 11.00 a.m. – 6.00 p.m.; VI – VII 11.00 a.m. – 5.00 p.m.
Testament is a collection of twelve intricately staged photographs which, through sculpture, installation, and representational human subjects, explores the spiritual labor of bearing weight, submission, futileness, and persistence.
To create the work, an author sought out a house that reminded her childhood home, rented the house for one year, and transformed it into a freighted sanctuary for constructing photographs.
She fabricated sculptural objects for each image, using materials such as wool, linen, clay, human hair, and beeswax. The materials borrow symbolic language from the Bible, and create alter-like, fleshy masses. She imagines the house as a gateway, the silent space just before crossing over. The people in the photographs are in the final phase of bearing weight, moments away from finally laying it down. Jennifer is seeking the moment of relief, and relishing in the moments just before it occurs.
Jennifer B Thoreson (b. 1979) is a contemporary artist creating staged photographs that are sensitive, highly stylized, and meticulously crafted. Drawing inspirations from themes of faith and love relationships, Jennifer is a dynamic and emotional illustrator of the human heart. The work is soulful, seeking the use of the forgotten or discarded, heavily symbolic, eerie and quiet.  She references her faith and spirituality to bring insight and awareness, using heartfelt, acutely mapped personal experiences.
Jennifer holds an MFA from the University of New Mexico. She is an international speaker and lecturer whose programs are sought after year after year by many professional public and private photographic organizations. Jennifer published her first monograph, Medic, in 2012. Jennifer's work has been a part of more than 30 exhibitions, has been widely published internationally in many print and online journals, and is represented by three major galleries across the United States.
Jennifer B. Thoreson became the winner of the KAUNAS PHOTO STAR 2014 portfolio competition held on the online portfolio reviews' platform folioPORT.org. The winner is invited to hold her solo exhibition at Kaunas Photography gallery.
For more information please visit: http://2015.kaunasphoto.com/en/