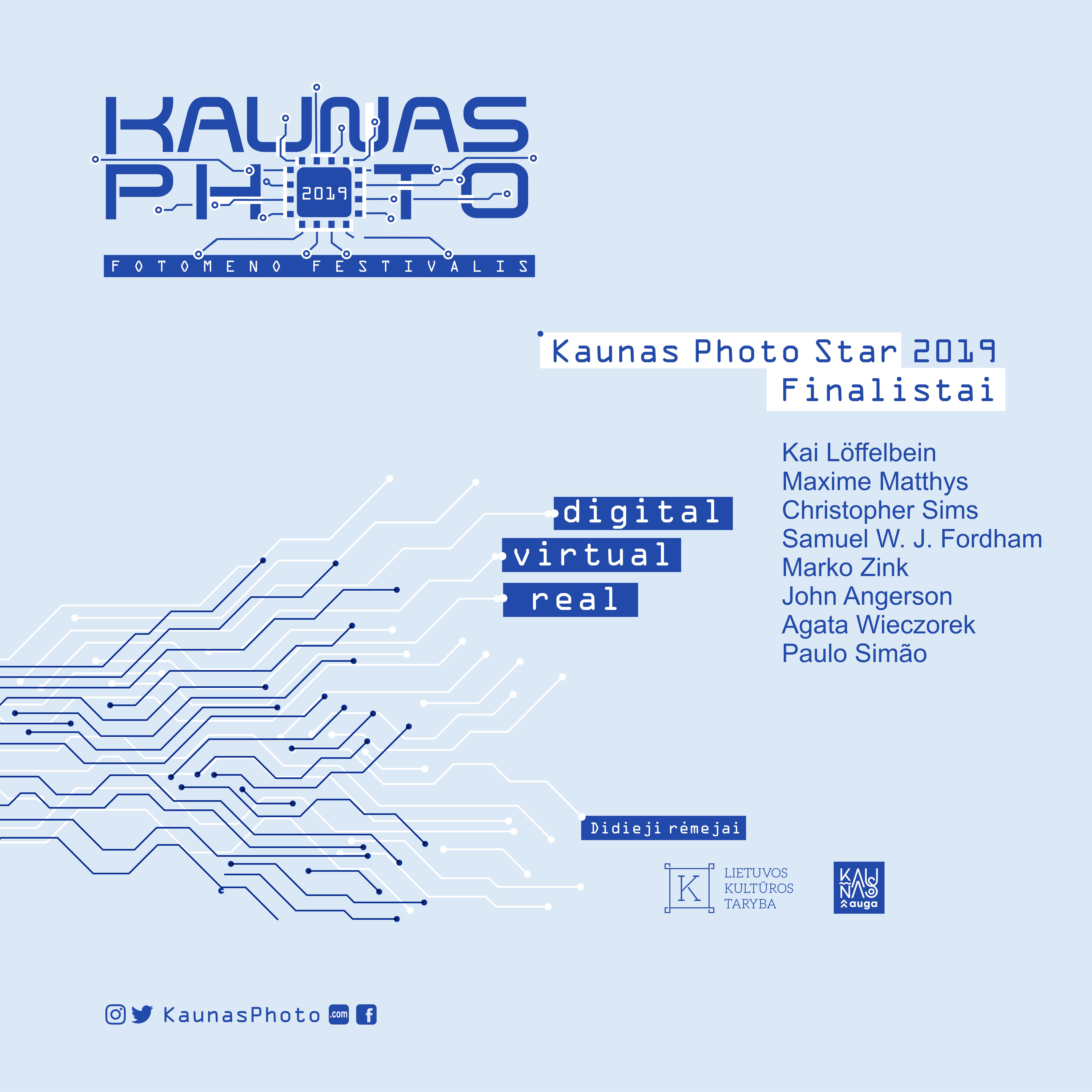 The winner of KAUNAS PHOTO STAR 2019 will be revealed on September 6th, 6 pm, at Kaunas Photography Gallery after a route through the exhibition venues in Kaunas old town.
On Friday, September 6, "Kaunas Photo" festival's series of opening events will move to the old town. From 4 pm onwards, "KAUNAS PHOTO STAR 2019 Finalists" exhibition parts will be opened, one after another, across five locations:
– 16:00 Kaunas Cultural Centre of Various Nations (Šv. Gertrūdos St. 58),
– 16:30 Kaunas Public Library of Vincas Kudirka – Department of Youth, Art and Music (A. Mapu St. 18),
– 17:00 Kaunas City Museum Folk Music Branch (L. Zamenhofo St. 12),
– 17:30 Gallery "Meno parkas" (Rotušės Sq. 27), and
– 18:00 Kaunas Photography Gallery (Vilniaus St. 2). After opening the door of this gallery, the Winner of KAUNAS PHOTO STAR Award will be disclosed.
The Finalists will be present during the exhibition opening.
The KAUNAS PHOTO STAR tradition started in 2010, awarding the best participant of portfolio reviews with a solo exhibition at Kaunas Photography Gallery and paying respect to a potential future star of photography. In 2018 KAUNAS PHOTO STAR Award gained a new tradition of staging an exhibition of all Finalists, after selecting them by the votes of an international Jury panel. The works of the highest-ranked finalists are exhibited in a joint exhibition, and the winner – at Kaunas Photography Gallery. The winner also receives a cash prize.
Following the votes of an international Jury panel, 8 Finalists have been selected in KAUNAS PHOTO STAR 2019 competition:
Kai Löffelbein (Germany) "Ctrl-X, a topography of e-waste"
Maxime Matthys (Belgium) "2091 : The Ministry of Privacy"
Christopher Sims (USA) "Theater of War: The Pretend Villages of Iraq and Afghanistan"
Samuel W. J. Fordham (UK) "C-R92/BY"
Marko Zink (Austria) "Mauthausen – The Eradication of Memories"
John Angerson (UK) "On this Day"
Agata Wieczorek (Poland) "Simulation Centers"
Paulo Simão (Portugal) "Goodbye Pyongyang"
One of them will be awarded with a solo exhibition at Kaunas Photography gallery and will receive 2500 EUR monetary prize.
Although KAUNAS PHOTO STAR Award competition is open to a variety of themes, styles, genres and approaches to photography, most of the entries featured this year's festival theme "Digital-Virtual-Real". The prevailing documentary photography genre invites to focus on processes, consequences of digitized lifestyle, data flow, communication, cyber-crime and -security, machine learning, surveillance, automation, dangers and fragile borders.
The main program of KAUNAS PHOTO festival will start in Kaunas on September 5 and 6. The opening of the Finalists' exhibition is a continuation of the opening events. The festival will start on the 5th of September with exhibition openings in the Museum of Lithuanian Education History at 5 pm and M. Žilinskas Art Gallery at 6 pm. The day will culminate with KAUNAS PHOTO NIGHT at 10 pm in the summer terrace "Laukas", where projections of photographs will be shown and artists participating in the festival will talk about their work. The night will conclude with an intriguing audiovisual performance of musical experiments and hypnotizing visuals by the programmer Guoda Kaminskė.
The opening events are free of charge.
KAUNAS PHOTO is the longest-running annual international photo art festival in Lithuania and the Baltic States. Since its first edition in 2004, it's been organized by the NGO "Šviesos raštas" and is regarded to be one of the most important continuous art events in the country. KAUNAS PHOTO is a member of "Festivals of Light" organization. The founder and the director of the festival is Mindaugas Kavaliauskas.
KAUNAS PHOTO institutional sponsors: Lithunian council for culture, Kaunas municipality.
Informational sponsor: LRT television.
Partners:
M. K. Čiurlionis National Museum of Art, Kaunas Photography Gallery, Gallery "Meno parkas", Kaunas City Museum, Kaunas Public Library of Vincas Kudirka, Kaunas Cultural Centre of Various Nations, Museum of Lithuanian Education History, Vytautas Magnus university, President Valdas Adamkus' Library-museum, Lithuanian Zoological Garden.
Festival's friend: summer venue "Laukas"
Contacts:
Festival coordinator Karolina Krinickaitė +370 672 35593, krinickaite.k@gmail.com
Educational program manager Agnė Cesiulė + 370 682 16592 acesiule@gmail.com
Director of the festival Mindaugas Kavaliauskas +370 650 77895, festival@light.lt
www.KaunasPhoto.com