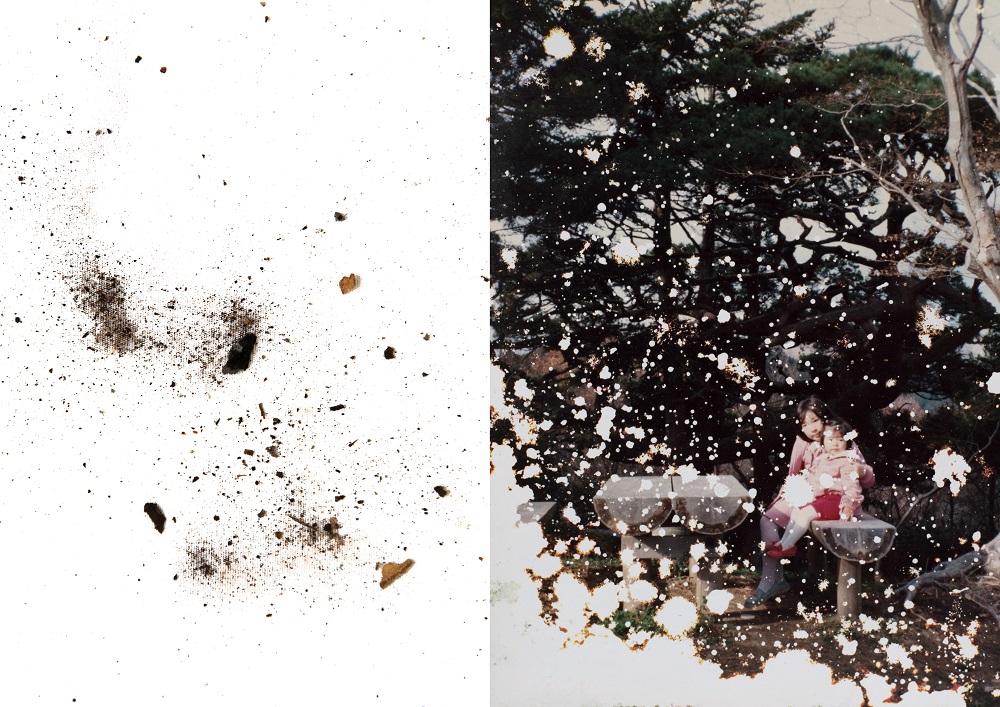 On the 1st of September, 6pm the 14th edition of Kaunas Photo festival, this year exploring the theme of water, will present the solo exhibition "The Restoration Will" of Kaunas Photo Star winner Mayumi Suzuki (Japan)
This is the seventh year of Kaunas Photo Star competition, with the first prize being a solo show in Kaunas Photo Gallery, and it attracted a great number of applications. Mindaugas Kavaliauskas, the festival director, mentions that there over 200 entries received from over 50 different countries. Because of the high quality of submissions, the TOP 4 was extended to TOP 16, from which the joint panel made up of Kaunas Photo festival and Kaunas Photography Gallery selected the winner.
Mayumi Suzuki's winning series "The Restoration Will" tells a story of tsunami that swept over Japan in  2011, and buried not only her home and family business- a photo studio, but also killed her parents.
In the aftermath when visiting the site of her former home, the artist found her family album, portfolio and some of her father's lenses buried underneath the ruble and dirt. She tried making some landscape photographs with the water damaged lenses. The resulting photographs were faded and dark, comparable to memories of those departed. This experience led her to feel that by making photographs like this she can connect the two worlds, the living one and the dead one, as if this allowed her to communicate with her parents despite it being impossible. Instant family photographs that Mayumi found were washed off of any colour, faded and bleak.  Portraits, made by her father in their photo studio, were damaged and stained. This series was Mayumi Suzuki's attempt to preserve her family history and her own memories of them. It's an attempted reconstruction of a familiar narrative and remembrance.
Gintaras Česonis, the director of Kaunas Photography Gallery said that the panel were united in choosing the winner. "The Restoration Will", he says, is a very strong body of work talking about a massive tragedy through personal and intimate experience of loss. Photographic medium is at the centre of this, both as artifact of life lost, and as a way of keeping the memories alive.
Mayumi Suzuki was born in 1977 in Onagawa, Miyagi and now resides in Tokyo, Japan. She is a photographer whose work explores the dignity of mankind. She was born and raised in a family that ran a photo studio founded by her grandfather in 1930 in the city of Onagawa. She studied at Nihon University, College of Art Department of Photography. On March 11, 2011 an incident which changed her life has occurred. Her hometown Onagawa was destroyed by tsunami and her parents went missing forever. She captures them as individuals and not just faceless figures; and presents the photographs as the proof of their lives.
The main events of Kaunas Photo will start on the 1st of September and will continue until the end of October.
"Kaunas Photo" is the longest- running annual photography festival in Lithuania and the Baltic States. It is organised by the NGO "Šviesos raštas" since 2004. "Kaunas Photo" is one of the most important annual art events in the country. "Kaunas Photo" is a member of Festival Of Light organisation.
Main sponsors: Lithuanian Culture Cuncil, Ministry of Culture of the Republic of Lithuania, Kaunas city council.
Partners: National M.K. Čiurlionis museum, Polish Institute in Vilnius, Girstutis Sport Complex.
Patron of the festival is President Valdas Adamkus.
Kaunas Photo Gallery will host KAUNAS PHOTO information hub throughout the festival.