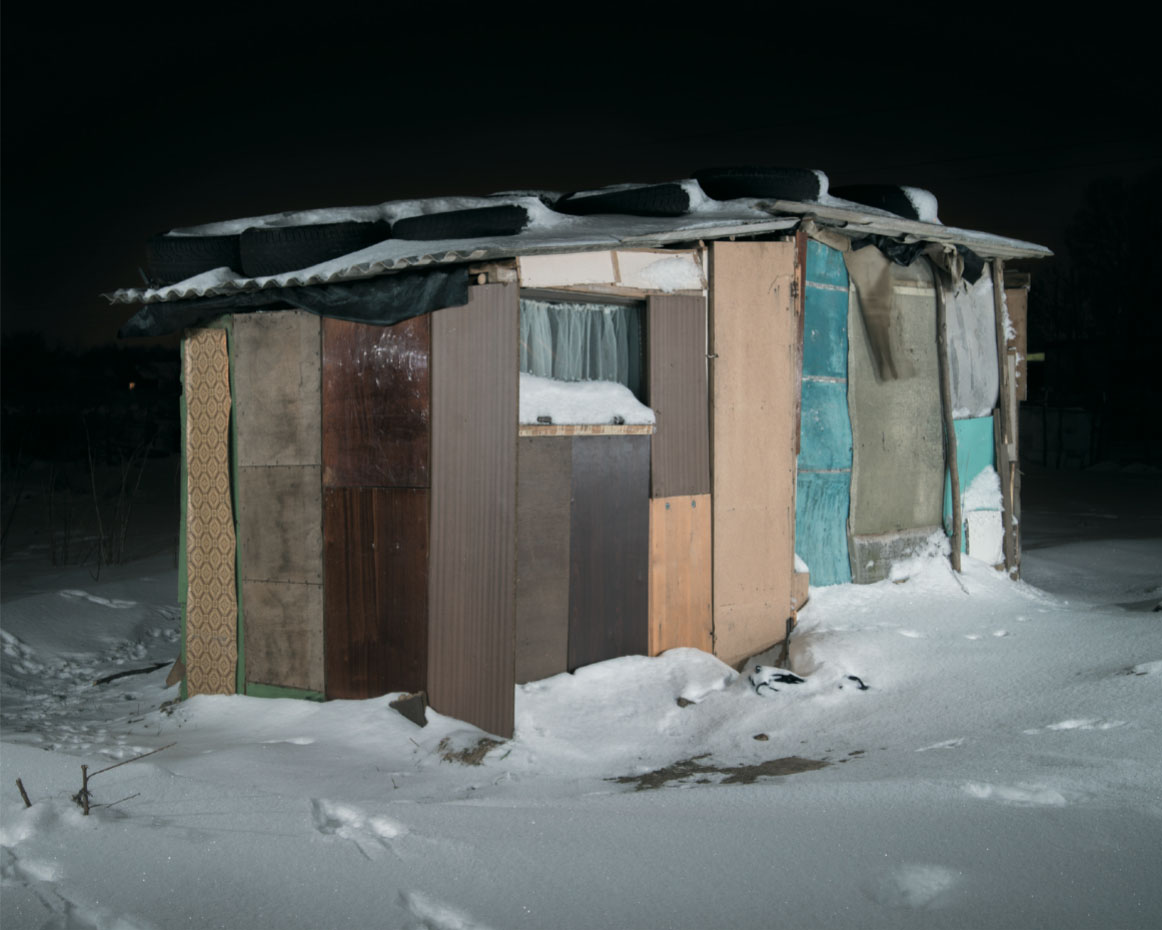 November 28th – December 27th
Harvest of Wetland
In 2002, frustrated with the long journey to legal allotments on the outskirts of the City, a self-governed space was established by a group of pensioners on a piece of wetland in Šiauliai city, Lithuania. The 15 elderly people occupied the land, built demarcation lines, erected buildings from scrap materials and dug out a drainage system to create a working allotment.
Every Spring and Autumn, they collectively hire a tractor to plough the land after the last cabbage was harvested or just before the potato planting. Homeless people would sometimes devastate buildings and greenhouses, only for the pensioners to quickly rebuild them from anything they could gather.
For some the allotment is a source of vegetables, berries, fruits that are conserved or pickled for winter. Jars of self-cultivated products are a huge supply for their tables, as a supplement to the meager state given pension that fails to fill stomachs. For others it is kind of a therapy…to escape from four flat walls, to keep the connection with Earth and to prepare the ground for the next generation.
Connected
Wales.
Newport.
I walk under a bridge. On this side. I look up. It connects this side to the other. How long is that bridge to reach our subconscious to understand the scale? We look for any recognizable object to perceive its scale so we can correlate one selves. When such a possibility is removed the reading of objects becomes a subconscious exploration, the communion between artist and viewer as being available to both the senses and the mind. In my viewfinder I construct compositions in order to express general beauty with the utmost awareness. Constructions and nature (or, that which I see) inspires me, puts me, as with any artist, in an emotional state so that an urge comes about to make something, but I want to come as close as possible to the truth and abstract everything from that, until I reach the foundation (still just an external foundation!) of things… I believe it is possible that, through lines and colour planes constructed with awareness, led by high intuition, and brought to harmony and rhythm, these basic forms of beauty, can become a work of art, as strong as it is true.
I walk on the other side under the bridge. Look up.
Wavebreakers
"Sculptures" from Nyborg Strandalleen beach, Denmark built by unknown "artists" with very specific purpose are being washed by waves of time, and they are loosing their primary purpose – being wave breakers protecting strand sand. They are changing functionality by becoming almost as a natural decoration of a beach.
Eugenijus Barzdžius [Eu:ge'nius Barz'juice]:, was born in Šiauliai city, Lithuania. Sometimes I am called by nickname Giena.  Meanwhile I was in a secondary school I started more and more to draw at the last pages of my exercise books, until I made a decision that my mother had to write an application for me for an evening art school, which I successfully graduated alongside. Right after I began to study BA Academic Art and Graphic Design at Šiauliai university, Lithuania. At the first months there photography was discovered as a passion. While studying at university an opportunity was taken to become better as a young photographer at a local newspaper, and just after a few months later a major national newspaper hired me. After the graduation I migrated to Denmark. In 2010 became again BA student at University of Wales, Newport, U.K., Documentary Photography course, which graduated in 2013. And now I am a freelance photographer working on my long term projects. At the moment based in Vilnius, Lithuania and studying part-time MA of Photography and Urban Cultures at Goldsmiths college, University of London.
http://www.eugenijusb.com