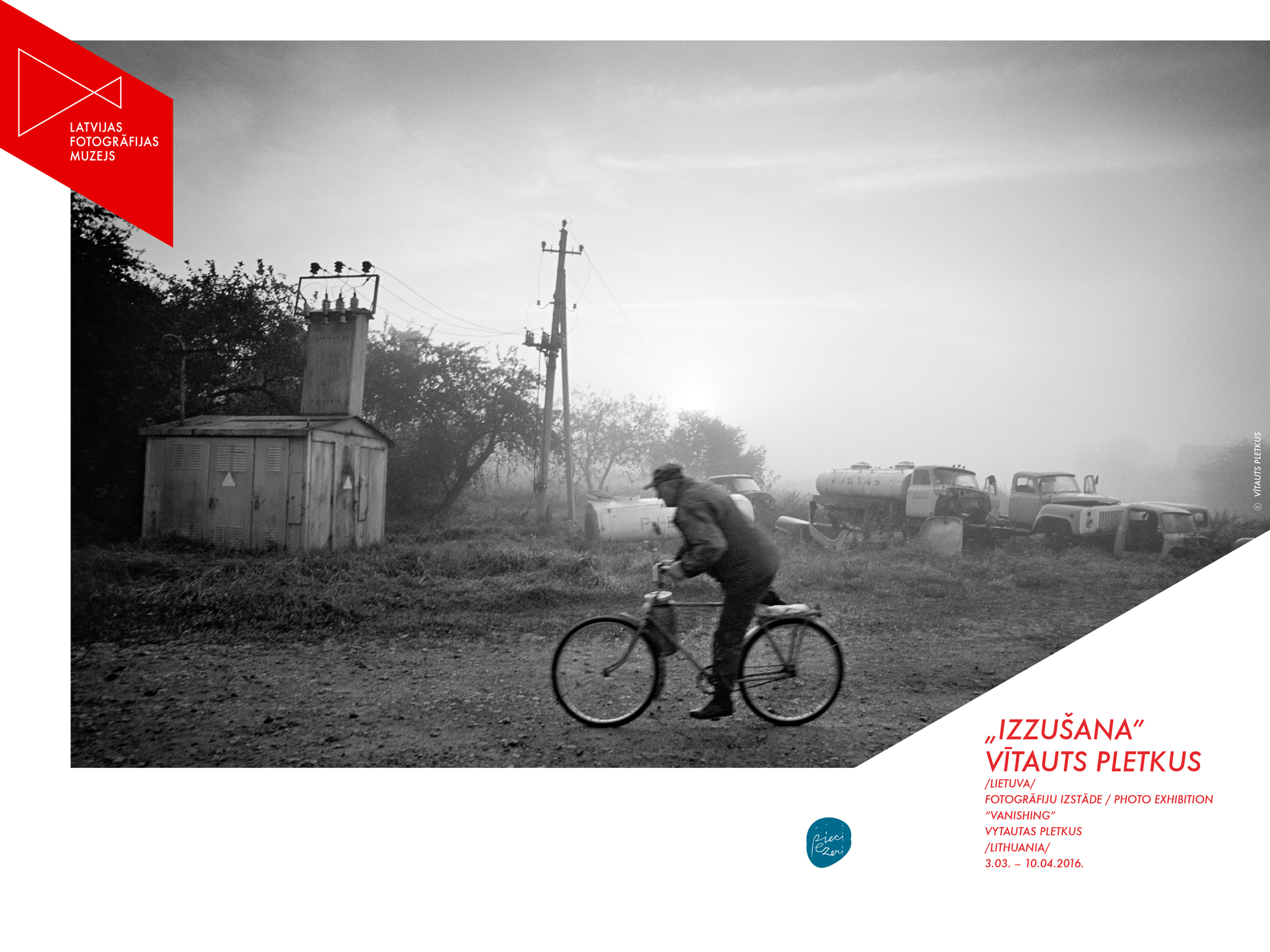 2016 March 3rd – April 10th
Photography exhibition "Vanishing" featuring images by Lithuanian photographer Vytautas Pletkus will be exhibited from third of March.
The photo series "Vanishing" shows the slow process of destruction. Houses, fences, sculptures, objects and places have become useless and are slowly sinking in to oblivion, making their own parallel reality in a lost time.
"Vytautas Pletkus covered the familiar scenery of Lithuanian photography with bitterness so consistently. As if while watching the same reality, he would see that it has already collapsed, the picturesque fields are just a cover, a carpet of illusion on a screaming pit where only charred concrete columns and rusty bars can grow. [..] Fallen from the pedestal next to closed door in Šatekiai, a stone lion is ossifying as a proof of nothingness," writes Lithuanian art critic Agnė Narušytė, "This world is doomed. Yet hope remains: maybe, while walking around the places, the photographer is taking us towards some secret room? A room with a leaky roof where our dreams will come true, a miracle will happen and bitterness will lift."­ The author has also included this topic in his other photo series, made from the beginning of the 21st century, after Lithuania joined the European Union.
Vytautas Pletkus was born in 1955 in Vilnius. In 1980 he graduated Vilnius Civil Engineering Institute. He is a member of Lithuanian Art Photographers Association since 2003. Some of the most significant photo series of the author are "Placebo"(2013-, Placebai), "Non-Prospective projects" (2008 – 2013, Neperspektyvūs projektai), "Territories" (2006–2011, Teritorijos), "Outskirts" (2006–, Pakraščiai), "Briges of Kaunas" (2003-2008, Kauno tiltai). The author has published two photobooks – "Bridges" (2011, Tiltai) and "Vanishing" (2015, Tuštėjimai).
PHOTOGRAPHY EXHIBITION OF VYTAUTAS PLETKUS "VANISHING" AT LATVIAN MUSEUM OF PHOTOGRAPHYViktorija