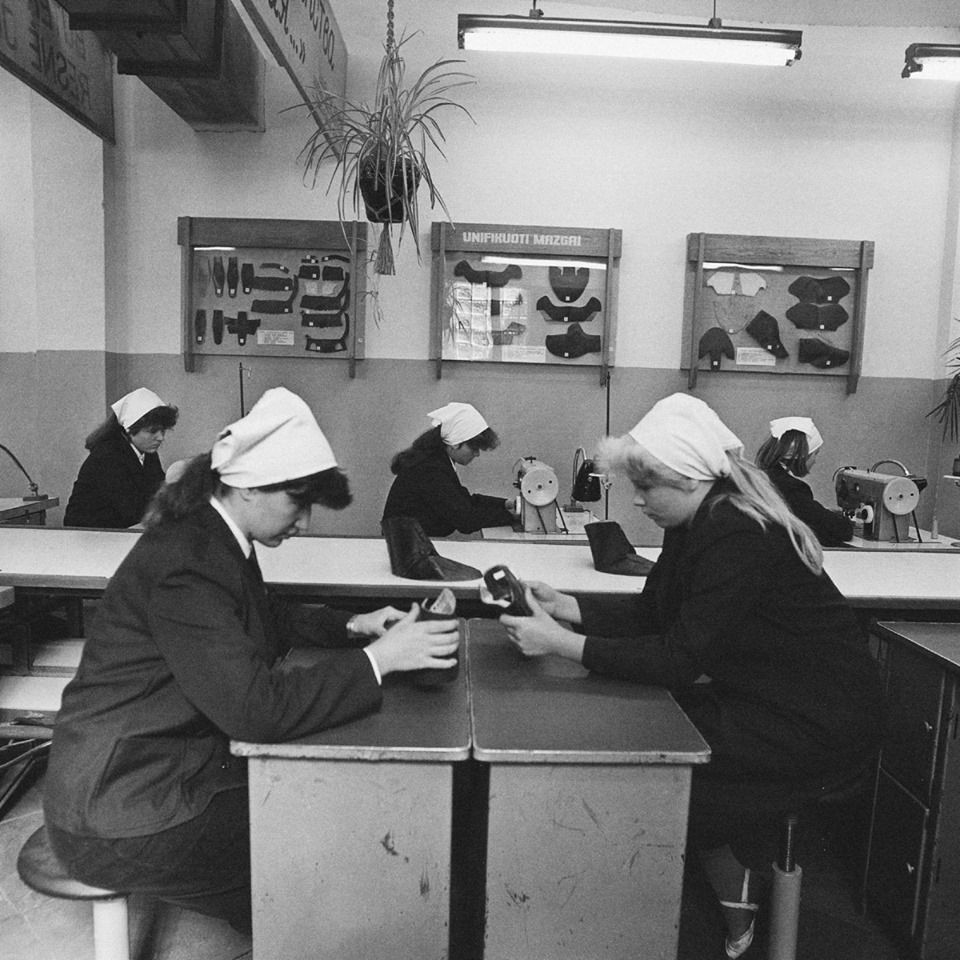 On December 13th, 5.30 pm. presentation of project "A Woman's Work" and its exhibition concept will take place in Kaunas Photography Gallery. During the event Latvian curator Jana Kukaine is going to introduce the conception of the exhibition which is going to take place in summer 2020.
Women's role in industry and technology-based work in post-war Europe is a hitherto untold story, and audiovisual archives have tended to focus on male-orientated "heavy industries" such as coal, iron and steel, or large scale engineering sectors such as shipbuilding, construction, aerospace and car manufacturing. Yet women continue to play a key role in many manufacturing and service industries – for example, textiles, electronics, food and drinks, plastics and pharmaceuticals – a reality which is neither acknowledged nor strongly represented in European cultural archives.
"A Woman's Work" is a project that uses photography and digital media to address that deficit through artistic collaboration and exchange across borders, and the co-production of exhibitions, publications and online resources that challenge the dominant view of gender and industry in Europe. The project explores the shifting relationship between home and the workplace, and growth sectors such as the finance industry, media and telecommunications, where women's work is being re-defined through technological developments and post-globalism.
In order to develop the project and get to know the curators/artists who coule potentially be involved in the project, this year the representatives of Kaunas Photography Gallery visited the Diffusion Festival and Ffotogallery at Cardiff, as well as conference Fast Forward: How Do Women Work in Tate Modern, London. The works of Lithuanian artists have been presented to the international community.
Jana Kukaine (1983) is an art critic and feminist curator from Riga, Latvia. She teaches feminist theory and aesthetics at the Art Academy of Latvia. She is also the author of a monograph Lovely Mothers. Women, Body, Subjectivity (Riga: Neputns, 2016) which is a feminist study of motherhood in contemporary art. Jana Kukaine holds a Bachelor's degree in Philosophy (University of Latvia) and a Master's degree in Arts and Heritage (University of Maastricht, Netherlands). Currently, she is a doctoral student at the Art Academy of Latvia researching the post-soviet legacy on gender equality in Latvia, feminist aesthetics in contemporary art and the articulations of motherhood and female subjectivity.
Project is supported by European Union Programme Creative Europe and Lithuanian Council for Culture.