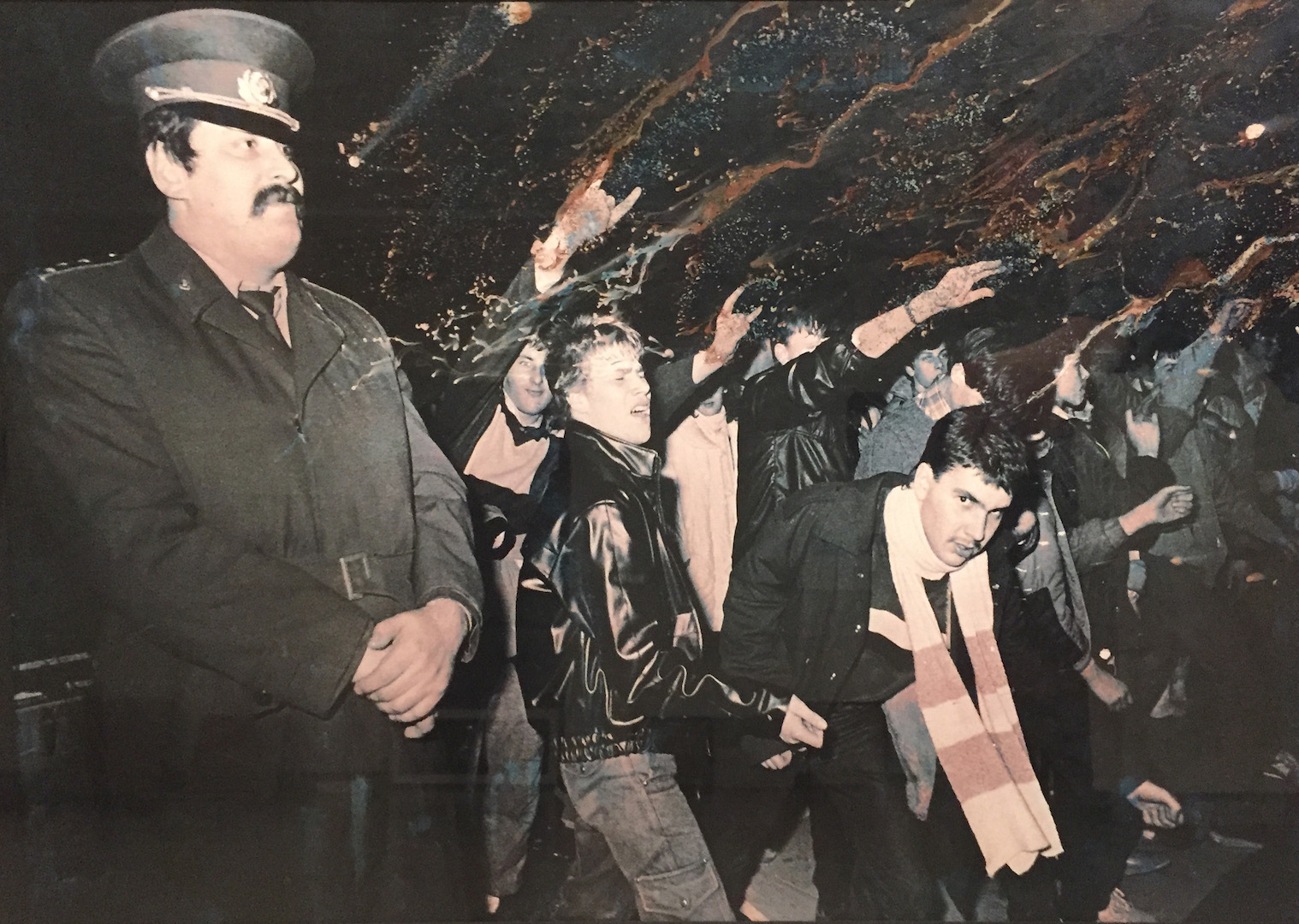 Right from the early artworks in 1970s, Romas Juškelis (1946-2016) stood out among other photo artists in Lithuania, mainly by disassociating himself from the dominant style of humanistic photography and expressing clear traits of formalism. "Aleksandras Macijauskas made a very good point when referring to the style of R. Juškelis as "analytical", meaning it encourages people to comprehend reality by decomposing it into somewhat abstract forms"[1]. The two main series – "Žmonės ir manekenai" (People and Mannequins) and "Degantis pasaulis" (Burning World) – are being exhibited in order to honour the artist who lived and created in Kaunas. The latter selection includes an early set of photographs that the author transformed by using a specific "spattering" technology.
More than forty years of creating art resulted in R. Juškelis perfecting the technical aspects of producing photographs: he used chemical materials in a precise and pedantic manner to make his portrayal of the world that surrounds us original. Experiments with shadows, reflections and chemical elements allowed him to modify reality and therefore show us the mysterious side of it which otherwise would go unnoticed. The artist also felt that it was important to do many experiments with colours on black and white photos, blending varied amounts of chemical materials together to create new and exciting colour patterns due to the reactions between an array of substances he inventively chose.
Juškelis is considered to be an inventor of the specific phenomenon called "fake colour" and thus was referred to as "the professor of chemicals" by his peers. The artist added brown, purple, sometimes blue colours to the black and white photographs, creating his own blends of chemical materials in order to do these visual experiments. This was just one of many recipes that he wrote down: he chose to use 200 ml of water, 30 g of potassium ferrocyanide, 10 g of potassium salt, 2.5 g of waterless sodium, putting in 1 g of thiourea to mix it with 100 g of potash. While working on a photo series consisting of images he named "the spotted ones", R. Juškelis used to pour various chemicals on the photographs during the development stage, this way creating original effects using the leaking substances which looked like splattered paint. He mentioned more than once that this method is pretty complex – it's hard to control, a sustainable amount of leaking elements has to end up only in places where it's needed, colours have to have a certain balance to them, and all of this is mostly not even visible until the photo is fully developed. Some images would get overdeveloped, then the surface – which had a metal-like shining to it – was painted on with tiny pincers, just like artists working with canvases would do. This resulted in truly peculiar patterns, hence all of R. Juškelis' artworks created in this fashion are unique. The futuristic vibes, visions of a burning world and the mystery of it all are linked by special aesthetics and colourless images enriched by colourful details.
The exhibition presents the story of an artist who was almost left behind in the Lithuanian history of photography, and the fantastic personal world of R. Juškelis is now open to be discovered step by step. The only thing left to find out is how we react to that world and whether it changes if we look at the same reality from the artist's perspective.
Romas Juškelis
Juškelis was born in Kaunas on July 23, 1946. He became a member of the Lithuanian Art Photographers' Association in 1979 and the creator's status was granted to him in 2005. He completed Vilnius Technology Technical School, specialty of photography, in 1974. From 1985 he worked in Kaunas Branch of the Lithuanian Art Photographers' Association, from 1994 he was the head of the Educational Division of Kaunas Pupils' School of Photography of the Lithuanian Art Photographers' Association. Died on 9th of July, 2016 in Kaunas.
The art photographer organised 20 solo shows in Lithuania and Russia, received 20 awards, among them – he was recognised the art photographer (AFIAP, 1994) of the International Art Photography Federation (FIAP), received the award of Kaunas Art Creators' Association (2009). Photographs of R. Juškelis are stored in collections of the Lithuanian Museum of Art and in foreign museums.
The most important cycles of photography: "Reflections" (1980–1985); "People and Manequins" (1987–1992); "Reservists" (1983–1985); "Disco" (1986–1989); "Forlorn Fortress" (1993); "Feast of Krishna Worshipers" (1997); "Kaunas Forts" (2000); "House of Hope" (2001)
[1] Tomas Pabedinskas, "While the world is burning". Romas Juškelis, Kauno pasakojimai, Kaunas: Lithuanian Photographers Association, 2008.