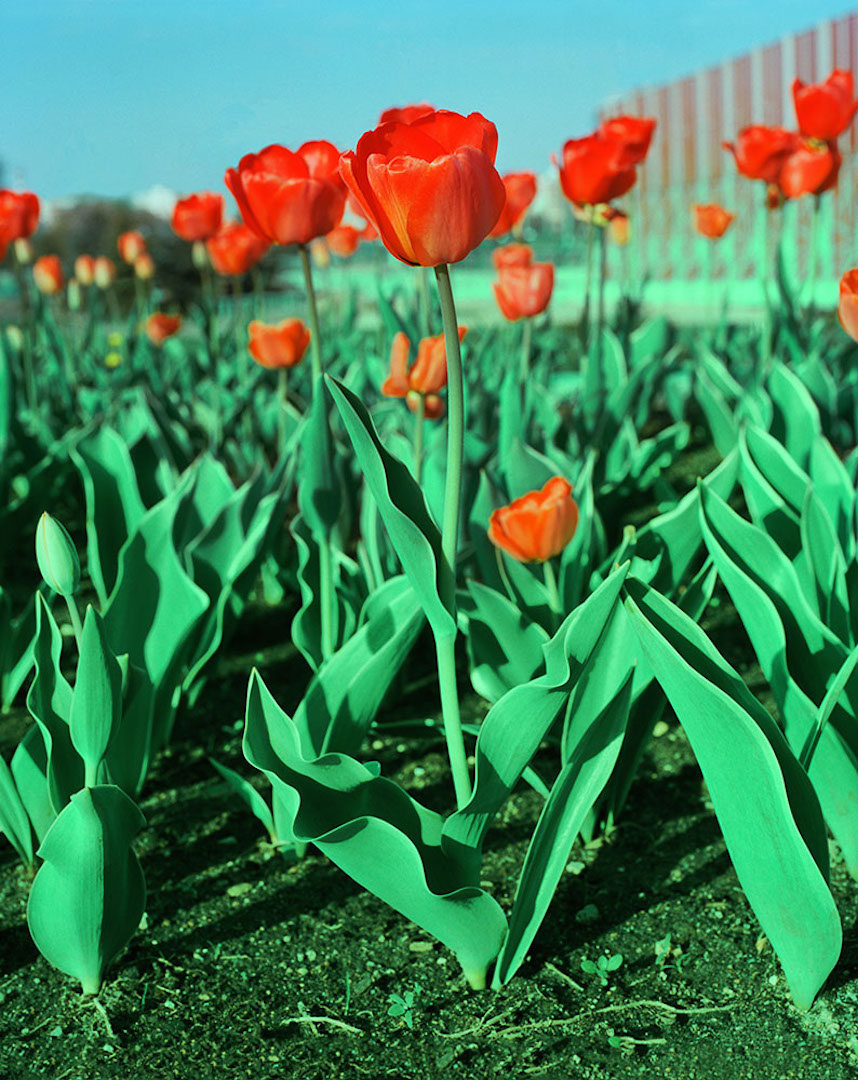 2016 March 31st – April 24th
Andrew Miksys exhibition 'TULIPS' opening at the Kaunas Photography Gallery, on the 31st of March, 5.30 pm.
Andrew Miksys began traveling to Belarus about six years ago to photograph Victory Day, a holiday celebrating the Soviet victory over fascism and Nazi Germany. During the celebrations, tractors, military equipment, and factory workers parade through the streets. A vintage USSR flag flies on a radio tower over Minsk. At a military-themed park named Stalin Line, there is a new statue of Stalin, and World War II battles are reenacted by men dressed in Soviet and Nazi uniforms. Red tulips, a symbol of spring and rejuvenation in the USSR, fill the streets and are given to war veterans as a way of thanking them for their service. It can be disorienting. You might even feel like you are traveling back in time. The scars and, more importantly, the heroics of war have become the central focus of a government in search of a unifying national identity. Andrew soon discovered that other Soviet-style holidays, like October Revolution Day and Day of the Fatherland's Defenders, are also observed in Belarus. He returned year after year to photograph them. The holidays, though, were more of a backdrop to his project, a way of following the path of national culture while looking for something more personal. Andrew often wandered off the official trail in an effort to seek more intimacy and understanding of a world that should be part of the past but is stubbornly resilient in the present.
'Andrew Miksys, a seasoned traveler, ventures into this outcrop of Soviet iconography with the eye of a trickster, searching for signs of intimacy and memory in a land of grand delusions. In Belarus, Soviet-style celebrations and repressions are not things of the past. This makes picturing Belarus a tricky proposition, for the space between permissible and forbidden is very narrow. Framing this slivered landscape requires mastering the art of persuasion, and the ability to revive the personal within the frames of the official. Knowing this, Miksys builds his Belorussian itinerary as a conceptual maneuver, following the ideological formulas of mass celebrations of Soviet history in expectation of finding memories of the future. In the search for the space in between, he builds his itinerary as a conceptual sleight of hand, following the ideological formulas in expectation of finding the human landscape.' Laimonas Biedis, from photobook 'Tulips', 2016.
The exhibition will stay open until 24th April.
Gallery opening hours: II-V 11am – 6pm, VI-VII 11am – 5pm.
Free entry.